EasierSoft - Folder Comparison and Synchronization - Freeware

Quickly compare two folders to find which files were changed. synchronize, Backup documents, photos,

videos, music between your desktop PC and laptop, or local network computers.

Bidirectional file synchronization keep your computers have the same files.

Ease to use, work reliable, you can manually specify which files need to be copied or transferred from one

computer to other.

Auto backup your data. Download Free Version

This software has both file backup and folder compare / sync function.

This software can save multiple file backup and folder sync profile, and auto runs on scheduling.

How to backup your important files News of Second Backup: Jan Feb

For all computer users, regular backup data is necessary. Lots of backup solutions use magnetic tape as the storage media, it is a mature solution, but the tape devices are expensive, and the accompanying backup software is complex.

A competitive solution is use external hard disk as the storage media. Now the capacity ratio of hard disk has been rapidly improved, the price is cheap, another advantages are low access times, availability and ease of use, the hard disk base backup software usually is simple, it especially suitable for personal user and small business.

If you are a personal computer user, I suggest you use a USB external hard disk to backup data, you can easily plug in the USB hard disk when you need to backup, then plug it out after backup and keep it in a safe place.

It is a hard work to do data backup by manually copying files from dist to disk every day, an automatic backup software can emancipate us from the hard work. Today there are many choices of backup software, how to choose the most suitable one for you? If you no idea, I suggest you try some free backup software first, for lots of people donít know their real needs until they buy and used a software, try some free edition first can help you to know your requirement with no cost.

Our automatic backup software - Second Backup, is suitable to do external hard disk backup, it is ease to use, no need to train, all skill levels user can use it. Second Backup not compressed the source files to a single file, the backed up files are readable, and it has a comparison function lets you easy to check if the backup is succeed. Second Backup can stores multi-version backup files, so you can find back the previous version files if need..
How to use Second Backup?
For example, to backup your "My Documents" folder to E:\ drive, just need 3 steps.
Step 1: Click the "Add Profile" button.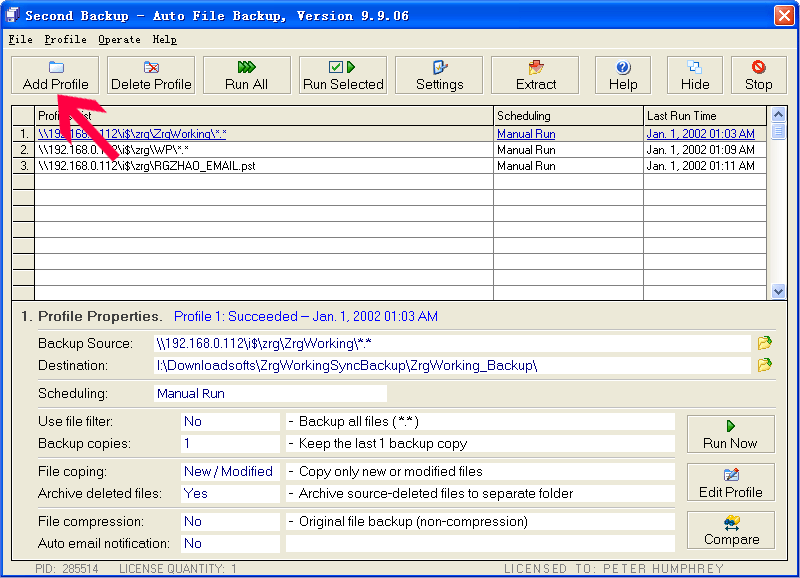 Step 2: Choose the destination folder.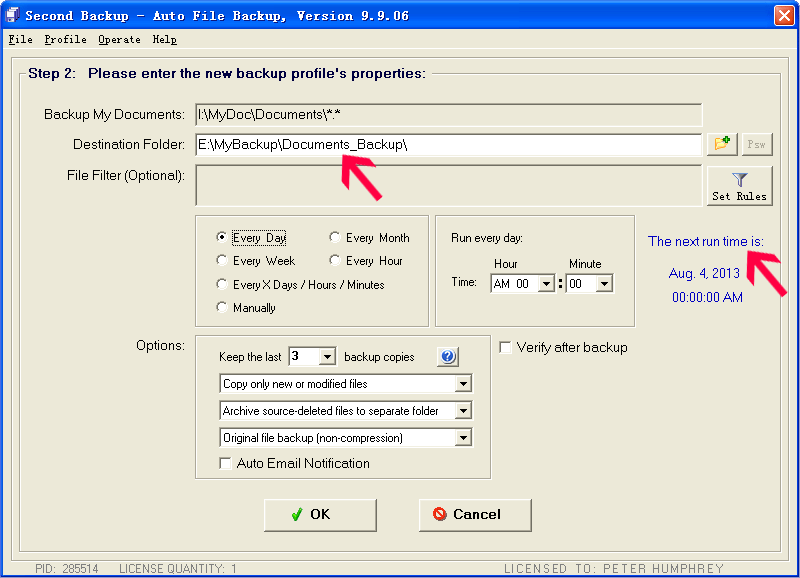 Step 3: The profile for backup "My Documents" has listed, click this profile, the profile's properties will display.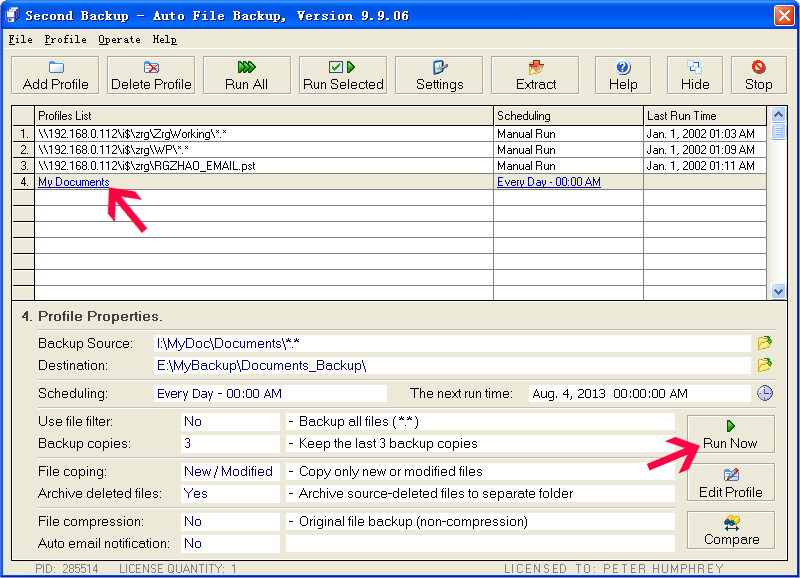 Advanced Features.
1. Keep multiple backup copies.
This program can keep multiple backup copies, it keep all files in each of its backup copies sup-folder,
for example, by default, it keep the last 3 backup copies, so at the first 3 times backup task, the program copy all files from the source folder to the 3 sub-folders("Backup_1","Backup_2","Backup_3") of the destination, "Backup_3" store the latest backup files, "Backup_2" store the previous backup files, "Backup_1" store the first backup files, each sub-folders("Backup_1","Backup_2","Backup_3") has a full backed up files.
At the 4th and the later backup tasks, the program would only copy the new and modified files to "Backup_3", and it only take a little time.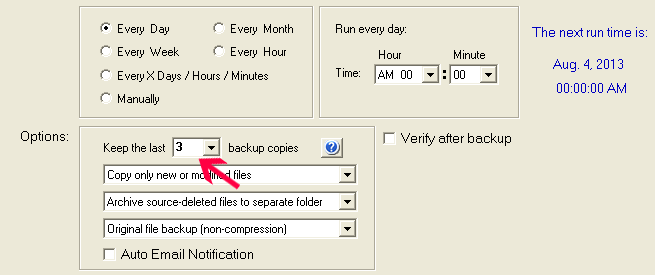 2. Copy only new or modified files on backup -- save the backup time.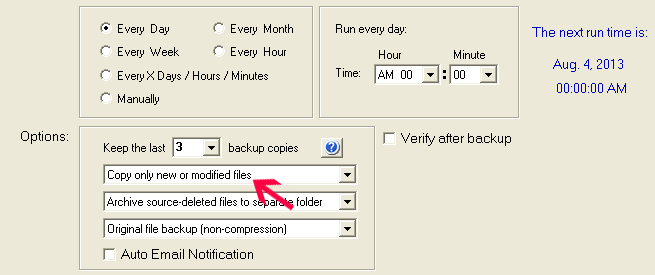 3. You can choose to backup the original file, or compress each files to zip format.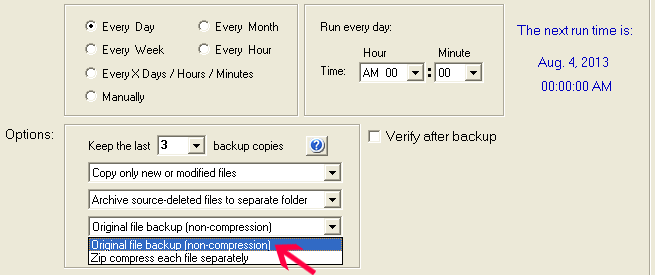 4. Automatic run the backup jobs on the schedule time (this is the Professional edition feature).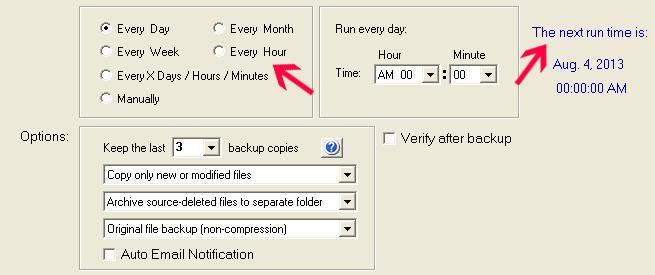 4. Automatic send email to you when the backup job completed.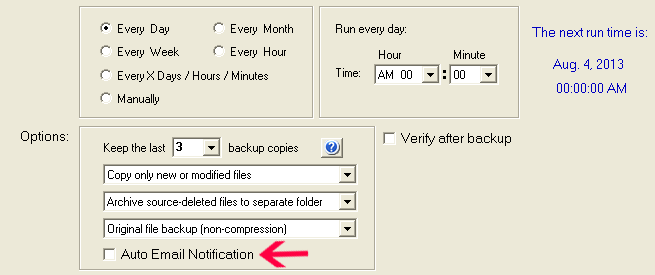 Copyright © 2013 EasierSoft Ltd.