EasierSoft Backup Software Ltd releases its new software for efficiently backing up data
Summary: EasierSoft Backup Software Ltd provides innovative data backup software that helps in keeping database safe. Users have the option to use the free edition or the professional edition of the software.
China, 18th May 2017: In present times backup software has become one of the most important tools for every business. Today almost everything is saved in the computer or laptops. Users should make sure that they take effective steps in order to keep their data safe. One of the best methods to keep all the information safe is to use good backup software. There are various companies that have been coming up with innovative backup software. It is important to make sure that the company has the experience in this field and they can be trusted. One of the companies that have come out with efficient backup software is EasierSoft Backup Software Ltd.
It is important to make a proper research on the company before buying the software. Buyers can try out the free version of the software in order to test the product sold by the company. Backup software needs to be compatible with all kinds of devices and it should have essential data recovery features. There should be automatic backup feature that keeps a backup of the device from time to time. This feature is really effective for official purpose as users keep saving all the documents in the laptop or PC.
EasierSoft Backup Software Ltd comes up with innovative features like manual copy folders, side by side folder comparison, automatic file backups, backup outlook express and bi-directional folder synchronization. There is online help provided to the users in order to make sure that they donít go through any hassle. The company has a detailed tutorial available for its users and it makes sure that they get the value for their money. It is not only data backup software but it also helps in conducting various tasks by scheduling them. The email scheduling feature makes sure that one can backup data and email them as per their convenience.
One does not need any technical knowledge in order to conduct backups or install this software. It stores multi-version backup files and helps in making comparisons in order to check if the backup succeeded or not. There is free backup software released by EasierSoft Backup Software Ltd that provides all kinds of backup features without any charges. Buyers can go through the FAQ before they use any software and get answers to their queries. In order to get permanent license or buy the software the buyers have the option to buy it through the website. There are regular discounts available on the software and this makes it cost effective for the buyers.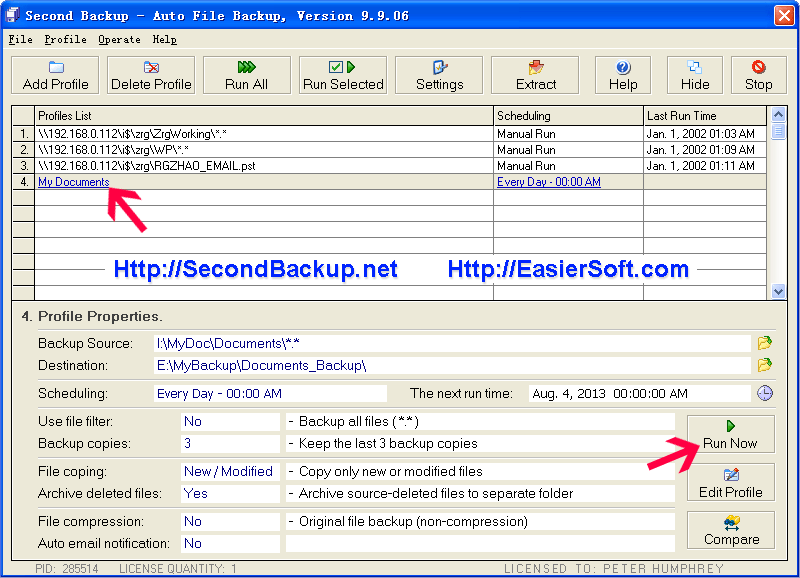 About EasierSoft Backup Software Ltd:
EasierSoft Backup Software Ltd is a Chinese company that has been developing efficient backup software for a long time now. It provides free version of the software as well as paid software. Buyers can go through their website in order to check the software and buy it.
Contact:
Person: Sunny Chiu
Company: EasierSoft Backup Software Ltd.
Add: Hong Kong
Tel: +852 90214499
Site: http://secondbackup.net
Email: cs@easiersoft.com